Our Purpose
To provide branded, sustainable products of superior quality and value that improve the lives of our customers, now and for generations to come.
Our Mission
To inspire and create a better future for the next generation and beyond.
L-Team
CEO, Co-Founder
Ivan is the Captain of the ship. As the Co-founder and CEO, he has been in charge of the business direction since day one, paving a solid ground for the business to not just grow, but thrive.
Under his helm, the business enjoys a steady double-digit growth year on year and a significant growing presence in 13 countries – USA, Canada, Germany, and the U.K. among others and has gained recognition globally. To him, it is not about building a brand. It is about building a legacy.
CBO, Co-Founder
Jane, KeaWorld's Co-Founder, is the tenacious creative and strategist behind the business. As Chief Business Officer, Jane ensured that their products were authentic, sustainable, and budget-friendly, backing her innovations with data.
Jane passionately advocates customer obsession, guiding the team to continuously innovate better products and elevate customers' experience. She lives her purpose each day; inspiring tomorrow for a better next generation.
Senior Manager, FinOps
Wong Phin joined the group since 2018 and is responsible for providing key inputs for major business decisions.
Prior to his role, Wong Phin was a senior auditor with over 5 years of professional experience in corporate audit, financial reporting and accounting across various sectors. Besides heading the Finance and Logistics Team, he is also involved in group restructuring, consolidation and global business expansion.
–
Manager, Product
Phoebe moved from Shanghai to Singapore in 2010. As the Product Manager, she heads the Product Team and is responsible for sourcing, negotiation and procurement. Phoebe brings with her more than a decade of experience in PR and client relationship management. She believes in building sustainable business relationships and the positive impact it brings for the company's stakeholders.
Phoebe graduated from Shanghai University, BSc Tourism Management and University of Dublin, MSc in Marketing.
Manager, Marketplace Growth
Niko is a veteran of over 10 years in establishing and managing entire organization workflow for the business to always be operation-ready. Being a strong advocator of customer obsession, she believes that every small action can lead to a big enhancement to the customer experience.
Niko leads the Marketplace Growth team, ensuring that the Brand takes the spotlight in over 20 global e-commerce marketplaces.
–
Art Director, Brand Visual
Daphne has an ardent interest in creative visuals. As Art Director, Daphne leads the creation of the Brand's visuals from ideation to reality. With her decade long experience in the creative industry, she firmly believes that design is always work-in-progress. Daphne prides herself on producing the highest standards and challenges the team to produce intriguing works that are better than yesterday's.
Daphne graduated from Loughborough University (UK), BA (Hons) Graphic Communication. She enjoys make-up and anything BLING.
Lead, Digital Marketing
Christina brings with her 10 years of sales experience and a thirst for knowledge in E-commerce. She leads the Digital Marketing team and is responsible for PPC, driving traffic and pushing product rankings across 10 global marketplaces. Christina enjoys learning and believes that the key to success is to be curious like a child. Her naturally charismatic and positive personality is highly infectious, uplifting the team during busy periods.
Christina graduated from Nanyang Technological University of Singapore, BSc Chemistry and BioChemistry.
Assistant Manager, Business Development
Sharon started her career in corporate client management, before venturing into digital marketing. Sharon is in-charge of BD and B2B distribution for the Brand. She lives and breathes "bias for action" and her exceptional execution capabilities have helped the Brand reached over 1K+ retailers with a double digit YOY growth in the B2B business.
Sharon graduated from Nanyang Technological University of Singapore, BSc Chemical and Biomolecular Engineering. Being a mom of 2, she enjoys spending quality time with her family while juggling her work.
Manager, Supply Chain
As Supply Chain Manager, Jared oversees the global logistics and supply chain operations. Being a supply chain professional with over 10 years of experience, Jared is always quick to adapt to the fast changing dynamics of the industry.
He believes that building long-term relationships by creating win-win situations with stakeholders are vital for the success of the business.
Jared enjoys good food and great company. He is talkative but when it comes to work, he is laser-focused.
Assistant Manager, Supply Chain
Teri takes ownership to the next level by being an ultra-meticulous and highly consistent team player that is ever-ready on the battlefield, any time of the day. As Supply Chain AM, she is responsible for end fulfilment, returns and claims, ensuring no hiccups.
Born with an extreme sweet tooth, her addiction for bubble tea is real. The team always count on her to resolve any nitty-gritty work issues to time-sensitive matters, as she can take care of them just like how she takes care of her daily bubble tea doses.
Lead, MarComs
Stephy is an avid story-telling visual creator. She leads the MarComs team and is responsible for media communication. Stephy has profound appreciation for compelling content, and she is always inspiring the team to craft ingenious social media strategies. Her aptitude for brand success has helped increase the Brand's exposure and customer engagement over the years.
Stephy graduated from Queensland University of Technology, MFA Visual Communication. She enjoys watching WWII, criminal/thriller films, and plays World of Warcraft.
Senior, Product & MarComs
Michelle joined in 2020, she spearheads the print and packaging designs and media content for the Brand. As a mother of 3, Michelle is passionate about baby and maternity products and draws inspiration for her designs from her personal parenting experience. Being an excellent visual communicator, Michelle has successfully helped the Brand with rebranding and streamlining brand communication for stakeholders.
Michelle graduated from Nanyang Technological University Singapore, BSc Business Administration.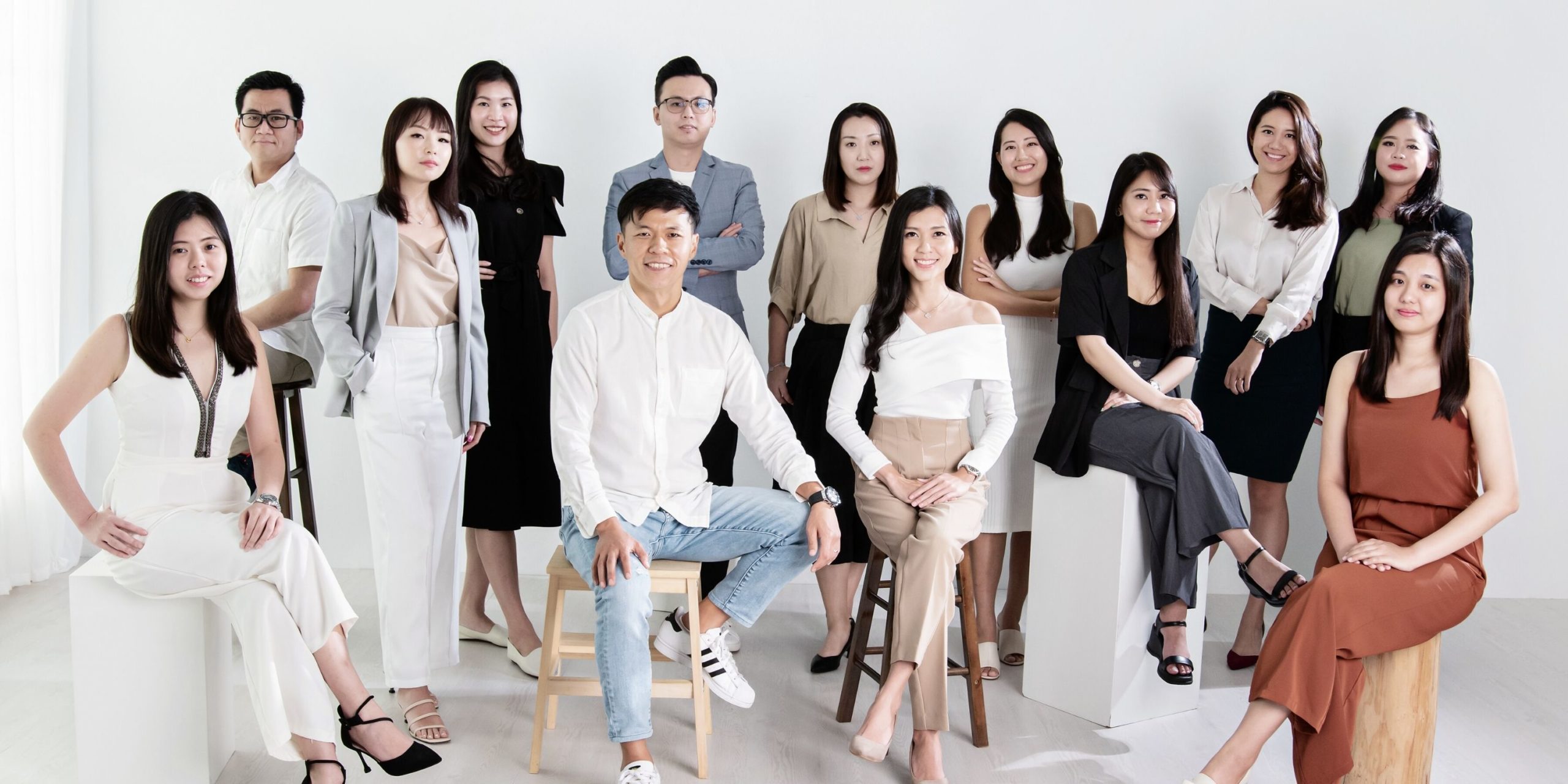 Our Team
No big achievements springs from individuals. It always takes a whole team to make something great happen.